Commercial & Residential Drywall Company in Blair, NE
Since 2008, Hicks Drywall LLC has been a family-owned and operated repair and renovation business, dedicated to providing excellent service and unparalleled workmanship. From drywall to sheetrock to remodeling work, residential or commercial in nature, our commercial and residential contractors do it all. Our work is professional, reliable, and always done in a timely manner.
Sheetrock Installers & More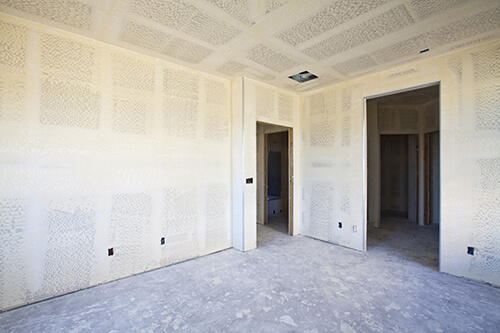 Every remodel, renovation, or brand new construction project starts with drywall. Without properly hung and prepped drywall, you're stuck waiting to proceed—and if your drywall isn't hung properly or professionally, you might be left with a poor start to your project. At Hicks Drywall LLC, we're here to make sure you're not left waiting and that you're left with a quality residential drywall in Nebraska. We take pride in the work we do as a commercial and residential drywall company, and we strive to do it better than anyone else. From repairing drywall in your home to hanging brand new drywall in your commercial business, no project is too big or small. Moreover, no matter the project we take on, you can be guaranteed it'll be completed to the highest levels of quality.
In addition to being a premier provider of residential and commercial drywall services in Nebraska, our commercial and residential drywall contractors are also your resource for specialty services adjacent to drywall, including sheetrock. For homeowners, we're your number one source for kitchen and bathroom remodeling, as well as ceiling renovations and installations. For our commercial customers, we're proud to specialize in commercial acoustical ceilings and interior design and installation—especially for movie theaters! It's our aim to be a complete commercial and residential drywall company in Nebraska, and we do everything we can to meet the needs of our customers.
We're accredited by the Better Business Bureaus of Nebraska, South Dakota, The Kansas Plains and Southwest Iowa, maintaining an A-plus rating.
We are fully licensed, bonded and insured residential and commercial drywall contractors.
Our services extend to both residential and commercial clients.
No job is too big or too small for our team to tackle with excellence.
Our sheetrock installers are pleased to offer free estimates on work to all prospective customers.
Get a Free Quote Today
If you're looking for superior drywall work performed by an industry veteran, get in touch with Hicks Drywall LLC today for a free quote. We're ready to survey your project!
Contact us
---
Areas Served
Proudly serving the following cities and counties in Nebraska and the Midwestern United States as residential and commercial drywall contractors:
Blair, NE
Kennard, NE
Arlington, NE
Herman, NE
Washington, NE
Fort Calhoun, NE
Omaha, NE
Fremont, NE
Winslow, NE
Washington County, NE
Douglas County, NE
Harrison County, NE
Dodge County, NE
Burt County, NE
Pottawattamie County, NE
Missouri
Kansas
Iowa
Colorado
Oklahoma
Texas
South Dakota